The Pirates and Corsairs of the Medes Islands are going to come back to Estartit on Friday 23rd, Saturday 24th and Sunday 25th September in the traditional Pirates and Corsairs Festival.
L'Estartit was during old centuries a zone full of pirates, and this Festival tries to spread this historical heritage with a combination of recreational and cultural activities.
Disembarkation at the beach
Friday the 23rd at 9pm the Pirates and Corsairs will disembark at the Platgeta again after two years of absence due to the pandemic. A disembarkation that will be followed by a 'Correfoc' (fire parade) from Plaça 1 d'Octubre to the Passeig Marítim.
Another main event will be the Naval Battle on Saturday at 8pm also at the Platgeta. A battle that will be followed by a street parade. The route will be the same as the 'correfoc', from Plaça 1 d'Octubre and up to the Passeig Marítim.
Workshops and family theatre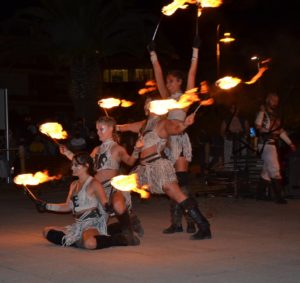 The program of the Pirates and Corsairs Festival is full of family activities and theater. Both Friday and Saturday there is a Story Time at l'Estartit Library, at 5.30pm and 11am respectively.
Children will enjoy 'El Petit Pirata' (little pirate) space with workshops and ride of ponies. Both activities will be located in front of the Tourist Office and Llevantina Square from 10.30am to 2pm and from 4pm to 7.30pm in the case of the ponies and until 8pm in the case of the workshops. This is scheduled for both Saturday and Sunday. Furthermore, on Saturday there will be a fish stamping at Passeig Marítim between 11am and 1pm.
On Sunday, the family program will include a concert at 11.30am in 1 d'Octubre Square and a Photocall and visit to the Pirate's Ship Aixa, also in 1 d'Octubre Square.
The Theatre is an important part of the Festival with Excalibur Theater making a visit to L'Estartit Pirata on Saturday and Sunday between 11am and 1pm; Entertainment in the street on Saturday at 5pm in l'Església Squere and the show 'El Secret del Tresor Templari`(The secret of Templar treasure) on Saturday at 7pm in the same square.
Exhibition on the influence of gastronomy on piracy
This year the Festival's exhibition will focus on how piracy and trade have influenced local gastronomy. The exhibition will open on Friday at 6pm in the EMD Auditorium and can be visited on Friday afternoon, Saturday morning and afternoon and Sunday morning.
Coinciding with the Festival, there's a guided tour on Saturday and Sunday to know the Big Meda island.
Craft market and music
Throughout the weekend there will also be a market of artisan products and on Saturday night two concerts: One in the Pineda with 2 a la carta and another in the Sala Mariscal with Rockola.
The Pirates and Corsairs Festival will close on Sunday at 6pm with the 18th anniversary party of an event that closes the high summer season in L'Estartit